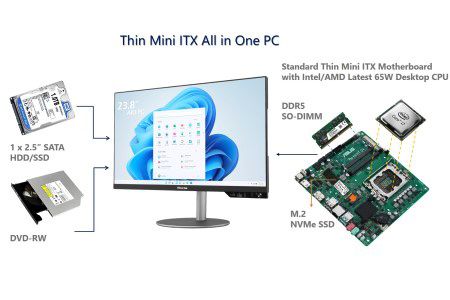 Thin Mini-ITX All-In-One PC
elegant AIO with powerful computing
Thin mini-ITX AIO PC utilizes the desktop components, including the standard Thin Mini-ITX Motherboard, Intel and AMD desktop socket 65W CPU, and other standard desktop components. The height of the motherboard is only half of the Micro-ATX, which makes the AIO PC very slim. The desktop CPU and features make the model very powerful. Therefore, it is an excellent choice for an inexpensive, sleek, powerful performance, space-saving desktop computer replacement.
---
Hibertek's All-In-One is compatible with ASUS, Gigabyte, GigaPC, ASROCK, ECS, JWIPC... It supports Intel or AMD Desktop socket CPU, Q670 and Q770 vPro motherboard, socket SO-DIMM, M.2 NVMe SSD, Wi-Fi and Bluetooth, ODD, Speakers, Camera and Microphone, high-efficiency Adapter, or internal power supply. More and more desktop system integrators, custom computer builders, and desktop component distributors distribute our products to corporate, school, DIY users and government tenders.
Thin Mini-ITX All-In-One PC | Custom All-in-One Touch Screen PC Manufacturer | Hibertek
Based in Taiwan since 2013, Hibertek International Limited has been a manufacturer of all-in-one computers. Its main touch and non-touch screen PCs include, Thin Mini-ITX All-In-One PC, computer monitors, commercial style desktop CPU powerful performance all-in-one PCs, desktop all-in-one PCs, multi-touch panel all-in-one computers, industrial touch screen computers, ultra thin all-in-one PCs, POS all-in-one touch screen computers, which are designed to supply to all sectors, such as IPC, IoT, POS, factory automation, medical and education.
Hibertek is a company with a passion for creating All-In-One PCs and All-In-One Touch Computers. We deliver the best quality and cutting-edge designed products to our customers, helping them build their own local brands and expand their business scope worldwide. We work together with our partners to design, create, and produce All-In-One PCs, integrating all possibilities into a single product and bringing in business opportunities.
Hibertek has been providing its customers with high performance, powerful, beautiful, and user-friendly all-in-one computers, both with advanced technology and with 10 years of experience, Hibertek ensures that each customer's needs are met.