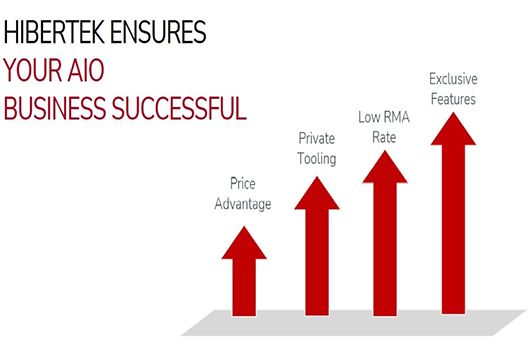 How to make your AIO Business successful?
If you need experience selling AIO, you must minimize your initial investment and start with small quantities. This strategy will allow you to test the market and make adjustments as necessary before committing to larger quantities. Additionally, choosing a suitable AIO model is crucial for attracting customers. Look for models with unique features and a visually appealing design that will stand out to your target audience.
---
The Role of Hibertek in Enabling Client Success
Partnering with Hibertek can be a great resource, as we accept small quantity orders and have experience helping partners select suitable models. Another essential aspect to consider is marketing. Utilizing Hibertek's marketing package can be a helpful way to prepare materials for your sales channels.
Additionally, working with Hibertek to analyze product distribution and user behavior can help you plan and prepare spare parts for after-service. Finally, monitoring sales results and customer feedback is vital to adjust your sales plan as needed. Following these steps can increase your chances of success in the AIO business even without prior experience.

Suppose you are already selling AIO products and seeing positive results.
In that case, you can take the following steps to continue growing your business: (1) Consider adding Hibertek AIO products to your product line. Hibertek's wide range of AIO products with unique features can attract specific customers and bring good profits. Expanding your product line can enhance your brand position and increase sales quantity. (2) Emphasize quality: Hibertek's products are known for their beauty, rich features, and good quality. By selling Hibertek AIO products, you can attract repeat customers and increase profits. Focusing on quality control and product selection is essential to ensure that you offer your customers the best products. (3) Learn from others' success: Hibertek has many successful business stories. Consider discussing with the Hibertek sales team to learn how they have helped other businesses run successfully. This can give you valuable insight and advice on improving and growing your AIO business.
Breathing New Life into Your AIO Business with Hibertek's Best Assistance
If your current AIO business is stuck, there are a few steps you can take to revive it: (1) Reevaluate your product line: The right product can create user demand. If your current product line is not resonating with customers, it may be time to reorganize and select new products that better align with customer needs. (2) Focus on quality control: When restarting your business, it's essential to be more careful about quality control and product selection. This aspect will help you offer the best products to your customers and attract repeat business. (3) Seek advice: As previously mentioned, Hibertek has many thriving businesses.

Consider discussing with the Hibertek sales team how to ensure your AIO business runs successfully. They can provide valuable advice and insights to help you re-secure your AIO business.